PRESS RELEASE
Chennai, January 5, 2006: More than 100 representatives from pollution impacted communities in Mettur and Cuddalore today presented a petition to the Tamil Nadu Pollution Control Board. The delegation of farmers, fisherfolks and residents petition highlighted the PCBs failure to check major environmental violations by Chemplast Sanmars PVC plant in Mettur Dam and asked for reasons for clearing the companys 40,000 tonne/year PVC proposal in Cuddalore despite massive public opposition and many expert recommendations against it. After failing to approve the project for three years in light of public opposition and technical irregularities, the Tamilnadu Government has curiously revived the proposal in this election year. Following its failure in Tamilnadu, Chemplast tried to set it up in Krishnapatnam, Andhrapradesh, but was unable to secure permission from the Andhra Pradesh Pollution Control Board owing to massive opposition. PVC is a poison plastic whose production, usage and disposal are associated with the release of deadly environmental poisons such as dioxins and furans.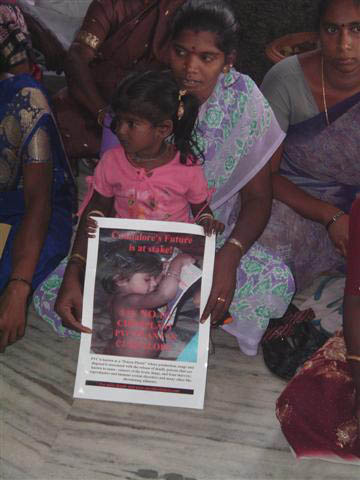 Chemplast's existing facility in Mettur, Salem, has caused tremendous harm to life and environment during its operation in the past 50 years. In July 2005, the Indian People's Tribunal released a report of a public hearing panel chaired by Justice (Retd) Akbar Kadri of the Madras High Court that looked into allegations of pollution and human rights violations by Chemplast Sanmar's operations in Mettur. The panel found that "Chemplast Sanmar. . .have caused irreparable damage to humans and the environment." An earlier Tribunal headed by Justice (Retd) S. Kanakaraj in 2003 had looked into Chemplast's proposal to set up a PVC factory in SIPCOT Cuddalore. This panel too had recommended against the setting up of the PVC factory in Cuddalore on grounds that SIPCOT is already over-polluted and that PVC is a dangerous product whose production, usage and disposal are associated with the release of deadly environmental poisons such as dioxins and furans
"It is unfortunate that agencies such as TNPCB that are meant to protect public health and environment are hand-in-glove with polluters like Chemplast. Instead of addressing the long-standing complaints of Mettur residents against the pollution caused by Chemplast, the TNPCB has permitted the company to threaten the lives of SIPCOT residents who are already reeling under the effects of pollution from existing chemical industries in the estate," said M. Matheswaran of West Gonur Farmers' Welfare Association from Mettur Dam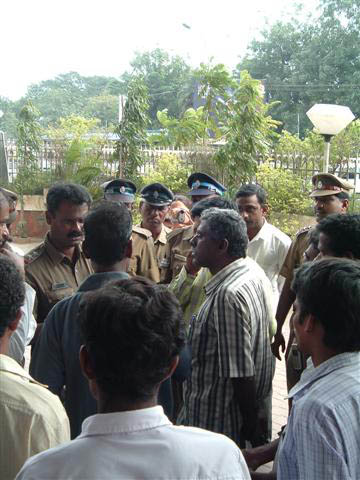 The permission granted is patently illegal, unscientific and arbitrary as it does not consider the pollution caused by new components added to the proposal such as a desalination plant and a power plant. At the very least, a new Environmental Impact Asssessment and public hearing ought to be held, residents said. The company plans to import Vinyl Chloride Monomer, a carcinogenic and explosive raw material, by installing a marine terminal and a 3.5 km long pipeline that will run through Chitrapettai, Tammanampettai, Nochikkadu and Semmankuppam passing through sensitive sand-dunes and vulnerable residential areas. Fisherfolk from the Tsunami-hit coastal villages near SIPCOT Cuddalore said that they will not allow the company's pipeline and marine terminal because they have no confidence in the Government's will to regulate polluters
Several bodies and political leaders, including the Semmankuppam Panchayat, the Cuddalore district Panchayat Union, the Cuddalore MLA E. Pugazhenthi, the PMK leader Dr. Ramadoss, the State Human Rights Commission and NEERI have stated that no more polluting industries should be located in SIPCOT Cuddalore.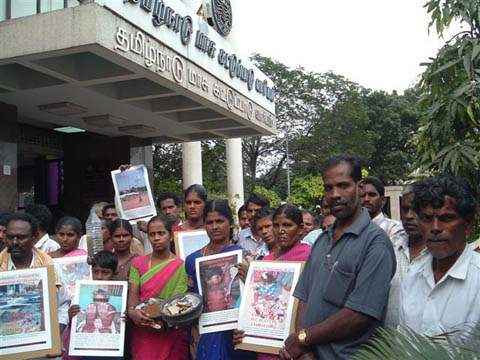 Exposing Chemplast's lies that the project has the blessings of local communities, representatives from Semmankuppam, Sangolikuppam, Sonnanchavadi, Nochikkadu, Eachangadu, Rasapettai, Chitrapettai and Tammanampettai in Cuddalore, along with Mettur residents occupied the TNPCB head office in Guindy in order to appeal to the authorities to reject the PVC plant. They said that they are prepared for a long-drawn out agitation against the Government's policy of systematically targeting SIPCOT residents with proposals for polluting industries.
For more details contact:
Shweta Narayan: 9444024315
Visit: www.sipcotcuddalore.com
Read related news stories:
Mettur, Cuddalore villagers confront Pollution Control Board on controversial PVC project