10 March, 2005: About 35 children in the 9 to 11 years age group from the pollution-impacted village of Sangolikuppam participated in an art workshop today. Though the paintings spoke of the stark reality of toxic pollution, there was an encouraging new element to the drawings. Blodsow the artist instructor who conducted the workshop — points out the images of candles in the paintings; candles signify hope and light a silver lining in a dark cloud, he said. According to him, the children not only understood the issues related to pollution but were also prepared to fight it, and this was reflected in their work.
The enthusiastic participants of the workshop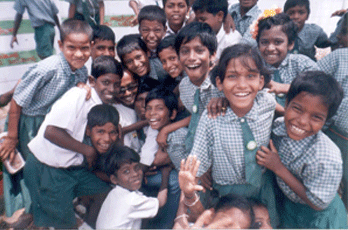 The workshop was spread over two days. On the first day, the children interacted with the artist and talked about the problems of pollution in the area; they also worked on preparing the base for their paintings by coating the paper with red mud. On the second day, they sketched the images in charcoal on the already prepared base.
The children used simple, safe and eco-friendly media — hand-made paper, mud and charcoal — to portray their images of life, pollution and the toxic reality that they live in. The children came across as very well informed on the issue of pollution and were at ease expressing their imagination on paper.

Children shaping their imaginations with the help of the artist
This work will be exhibited in a art exhibitions in schools of Cuddalore and Pondicherry to spread the message of effects of pollution on children in SIPCOT and to mobilise support for the pollution related work in the area.
"Hope" was the new element in the portrayal of the toxic reality by the children of Sangolikuppam