20 March, 2005: Tiruvallur district collectorate today witnessed democracy in action, when more than 350 villagers attended a public hearing to voice their opposition to a hazardous waste facility that was proposed to be set up near their village in Gummidipoondi in North Tamilnadu. People from four villages — B.R. Kandigai, S.R. Kandigai, Pappankuppam and B.R. Kandigai Colony — attended the public hearing conducted by the District Collector of Tiruvallur. After a brief presentation by the project proponents, the villagers, NGOs and environmental and human rights activists proceeded to systematically counter the project proposal. There was unanimous opposition to the project, with not one person speaking in favour of the project except for the project proponent.
Below: Proposed site for hazardous waste
landfill, bordered
by other industries in the area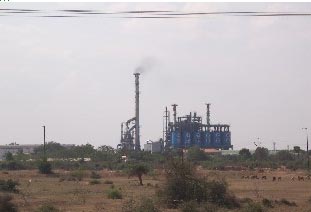 The project involved treating, burying and burning more than 35,000 tonnes/year of hazardous wastes from Chennai, Tiruvallur and Kanchipuram districts. Promoted by the Tamilnadu Waste Management Ltd — a consortium led by Ramky Enviro Engineers and with Orchid Chemicals, Ford Motors and Hyundai as members — the project was set to come up on a 60-acre site covering a large perennial lake called Kuluva Cheruvu. The landfill-cum-incinerator site is barely 500 metres from the nearest habitation, and is bound on three sides by water bodies and agricultural lands.
The project involves a 12,000 tonne/year landfill, a 3500 tonne/year incinerator (Alstom Power Systems, USA), a physico-chemical treatment plant, a wastewater treatment plant and a storage shed for wastes that are not amenable to burying, burning, neutralising or recycling.
An attempt by the District Collector to allow a National Environmental Engineering Research Institute (NEERI) scientist to address the concerns raised by the public raised a huge hue and cry. The public argued that the public hearing is not a forum to hold debates; rather it was a forum to hear public concerns. The NEERI scientist was gheraoed (surrounded) by irate villagers who forced the Collector to withdraw his offer to allow NEERI to defend its report.
E. Rajendran of Pappankuppam complained of the existing pollution in the industrial estate, and wondered how Chennai could send them toxic wastes in return for the tanker-loads of fresh water Chennai takes from their village during summer months. In 2004, when all nearby villages had issued resolutions not to allow tankers to buy borewell water from the area, Pappankuppam had allowed nearly 350 tanker loads of water (42,00,000 litres) to be taken to Chennai. Gummidipoondi lies in one of the rare groundwater-rich areas of Tamilnadu, and is a fertile agricultural region. A network of small and large lakes, reservoirs, criss-crossing rivers and irrigation canals has left this region with one of the scarcest natural resources in India — fresh water.
(Below: Ancient temples, tanks and lakes
dot the landscape around the proposed landfill site)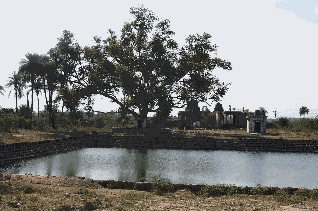 NEERI, which conducted a preliminary environmental appraisal of the project, acknowledges that the project site is unsuitable for locating the landfill because of the high water table, the good quality water and the fact that the area is an alternative source of drinking water for Chennai in the summer months.
Villagers pointed out that labour-intensive companies like car assembly plants run shy of setting up in Gummidipoondi because the air pollution in the area. Hi-Tech Carbon, a Birla group company that manufactures carbon black for use in the rubber industry, is identified as a major polluter. Car assembling plants tend to locate in areas with good air quality, because dust and other air pollution reportedly damage freshly-painted car bodies; freshly born human babies are not considered as vulnerable or important to protect as car bodies. Ironically, Hyundai which reportedly abandoned Gummidipoondi as a site for their car assembly plant on account of the prevalent air pollution there, is pushing for location of a common hazardous waste plant in the area to accept its hazardous wastes as well.
Frequent emissions of carbon dust and sulphurous emissions from the factory is the cause of public concern and deteriorating health, according to Lalithamma of the Roja Women's Self Help Group from B.R. Kandigai. Lalithamma pointed out that a regulatory agency that has been unable to control existing pollution cannot be expected to protect public health from new polluting activities.
Y. Krishnamaraju, an 85-year-old freedom fighter and resident of S.R. Kandigai, has moved the Madras High Court seeking a re-hearing at a location closer to the proposed project site. The public hearing on 18 March was held at the district headquarters more than 45 kms from the project site. Villagers saw the venue-selection as an attempt by the Tamilnadu Pollution Control Board and the District Collector to push through the project without having to deal with too many villagers. They have resolved to fight against this proposal if the Government pushed ahead with it despite their opposition; they also have indicated that they will take on the fight against existing polluters to its logical conclusion.
Organisations and individuals that participated and presented their views against the project included: Communist Party of India (Marxist), Tiruvallur-based NGOs CRWEL and CCRD, Tamilnadu Women's Collective, Corporate Accountability Desk, Pasumai Thaayagam, The Other Media, Toxics Link and representatives of S.R. Kandigai, B.R. Kandigai, Pappankuppam villages.
Factsheet:
Common Hazardous Waste Dumpsite and Incinerator at SIPCOT Industrial Complex, Gummidipoondi
See related news stories in Indian publications:
Waste Management Company Gets a Taste of Democracy