Cuddalore, 22 August 2008: More than 100 residents from SIPCOT villages including Eachangadu, Sonanchavadi and Semmankuppam organized a protest meeting opposite the Collector's office to express their opposition to Government's move of setting up new chemical and polluting units in their villages. Citing the poor environmental records, a looming public health crisis and a recent National Environmental Engineering Research Institute (NEERI) report, that estimated that SIPCOT Cuddalore residents are at least 2000 times more likely to contract cancer in their lifetimes due to their exposure to high levels of toxic gases from chemical industries in the region, the residents demanded a total moratorium on new chemical and polluting units in the area.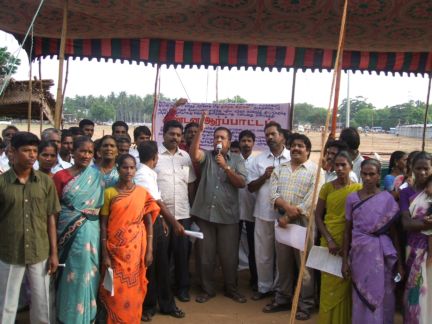 Villagers also protested the Tamil Nadu Government's move to set up a Chlorinated Polyethylene facility by Aria Chemicals barely 100 meters from the fishing village of Sonanchavadi in SIPCOT Phase II. According to the villagers neither the Company nor the Government have informed them about the dangers of the facility, the types of chemicals used nor have they sought permission from the village.
Aria Chemicals has received environmental clearance to set up a 20000 TPA capacity Chlorinated Polyethylene facility in Sonanchavadi village of SIPCOT Cuddalore. The unit will use 40 tonnes of chlorine per day as one of its primary raw material. They will also use at least 3,10,000 of water per batch of production.
The villagers submitted petitions supported by more than 600 residents of SIPCOT area against the proposal of setting up of Aria Chemicals and also announced that they will continue with various forms of peaceful agitation till their demands are honoured.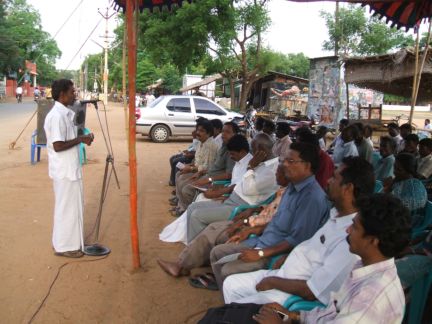 Participants of the meeting also included – Sonanchavadi Fishing Panchayat and Residents; Semmankuppam Village Youth Group and Women's Group; Eachangadu Women's Self Help Group; Venpura Social Welfare Organisation; Tarasu People's Forum, Liberation Tigers of Fishermen; Human Rights organisations from Cuddalore, Lawyers and Lawyer's Clerk Association; Killai Fishing Village Panchayat; Dalit Panthers; Tamil Nadu Progressive Writer's Association; Tamil Nadu Environmental Kazhagham; Consumer Organisations; SACEM.
SIPCOT Residents Protest Setting of New Chemical Industries in their Village