FEBRUARY 22, 2017
By Express News Service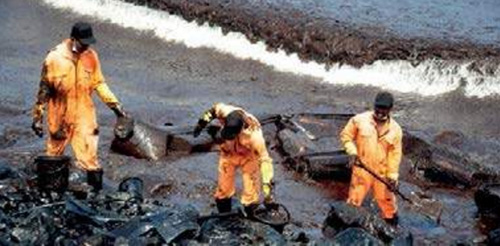 CHENNAI: The State government lacks a database of workers who were involved in cleaning up the spill, thus putting them at a greater long-term health risk as they have engaged themselves without any protective gear, warns a fact-finding report prepared by doctors.
The report, 'Oil Spill in Chennai: fact-finding report on health impacts on clean-up workers, fisherfolk and residents in Ennore,' charges the government with failing to come out with guidelines on how to clear the spill, which exposed many to carcinogenic chemicals like benzene, toluene and xylene.
The report, prepared by three doctors Dr S Sudarshini, Dr Shruthee SG and Dr M Amaran under the guidance of Dr Rakhal Gaitonde, senior scientist, Centre for Technology and Policy, IIT-Madras, highlighted how there has been little information on the nature of spill, petroleum oil and its derivatives that have toxic chemicals which cause damage to human health.
After visiting Bharathiyar Nagar on Ennore Expressway and interviewing 50 respondents from clean-up crew of Indian Coast Guard, fishermen, fire and rescue personnel, Corporation of Chennai conservancy workers, residents including elderly women and school students, the team found that officials failed to understand the gravity of situation and did not cordon of the area.
Hitting out at the officials for failing to implement the standard operating procedures in the eventuality of disaster, the report said the site became a picnic spot with people having unrestricted access, exposing themselves to harmful carcinogenic chemicals. "The team found several oil sludge filled drums on western side of the sea wall along the road of which many were leaking," the report said.
It further lamented about the lack of personal protective equipment during oil spill clean-up. "Since some wore short sleeves the gloves and boots were not sufficient to prevent exposure to skin. Some wore surgical masks and few others handkerchiefs around nose and mouth. No worker was wearing certified masks suitable for such situations," the report noted.
Health workers had poor understanding of the effects likely to arise out of exposure to chemicals undermining their capacity to provide advice and health care to those exposed to spill.
Spill clean-up workers exposed to long-term health risks