11 Feb 2013
Special Correspondent
The Hindu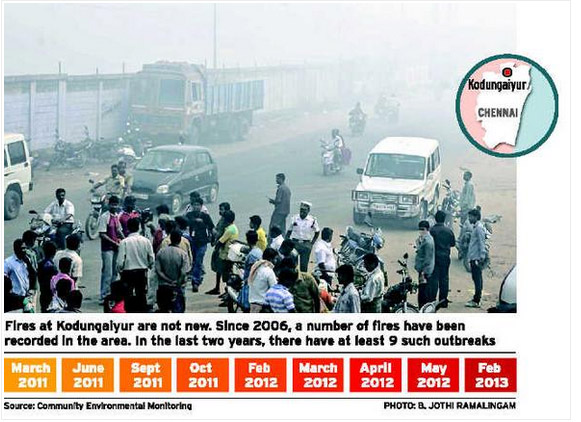 As garbage goes up in flames in dumping yard, residents demand solution to chronic problem
Residents of Kodungaiyur will perhaps have lost count of the number of times they have staged protests demanding that the Chennai Corporation stop dumping garbage in their backyard.
On Sunday morning, with a thick haze of smoke enveloping their locality thanks to burnt waste, around 200 residents staged a flash protest and blocked traffic on the Bharathidasan Road demanding that the Corporations dumping yard be shifted elsewhere. They agreed to go back to their homes only after the police intervened.
As residents coughed and wheezed about their daily routine, smoke shrouded homes falling within at least a kilometre of the yard. Motorists, who had to use the roads in the area, were seen waging a losing battle to keep from inhaling smoke.
Kantha, a resident of the area, said her joint family had been living there for over 10 years now. "We have seven children in our house and they constantly fall sick. The children have breathing problems and are even unable to climb stairs or play. Our lives are miserable here but we have nowhere else to go," she said.
R. Kalaiarasi her neighbour said they were unable to turn on the fans inside the house as the smoke kept swirling around. "Everything smells of smoke. We cant even cook as it smells acrid. We will continue to hold protests until something is done," she said.
Dharmesh Shah of Chennai-based Community Environmental Monitoring said that while most municipalities across the country were striving to introduce practices such as composting, biogas and decentralised waste management, the Chennai Corporation has failed to come up with any long-term solutions to deal with its mounting problem of garbage disposal. The only way out was to keep organic waste out of the dump yard by diverting it to composting and biogas facilities, which the city lacks, he added.
A source at the Corporation said their staff was attending to the problem with heavy machinery. "Four earth-movers are working on quenching the fire. We are constantly monitoring the situation," he said.
Currently, 100 acres of the 269-acre plot in Kodungaiyur is used to dump garbage.
Govt. proposal
Recently, the State government announced a slew of measures to deal with constant outbreak of fires in the yard. A cement road is to be laid at a cost of Rs. 5.59 crore that will help provide access to areas where fires break out. Five earth-movers and bulldozers will be used to flatten the mounds of garbage that block vehicle access. A fire tender will be kept at the site in readiness to deal with an outbreak.
Protest erupts as smoke shrouds Kodungaiyur