January 22, 2013
Ambika Sharma
Tribune News Service
Solan, January 22, 2013
Harmful chemicals like lead, arsenic, poly aromatic hydrocarbons (PAHs), organic carbon and elemental carbon, besides an alarming level of particulate matter (PM) of 2.5 and 10 aerodynamic diameter, have been detected in the industrial hub of Baddi-Barotiwala-Nalagarh (BBN) in a latest study conducted by IIT Kanpur.
These findings have been highlighted in a preliminary study on "Environment Pollution Sources and their Apportionment to Ambient Environment", a copy of which is available with The Tribune.
The study suggests that the PM10 concentration at 15 sites in the industrial area of BBN exceeds the national ambient air quality standards (NAAQS) while PM2.5 concentration of six sites exceeds permissible limit and sulphur dioxide concentration at two sites and lead concentration at three sites exceeds the NAAQS. Even the toxic lead concentration at five sites exceeds the permissible limits.
Besides, the presence of poly aromatic hydrocarbons has also been detected. The presence of all these chemicals is considered an alarming revelation as its prolonged exposure can lead to various health ailments, including cancer, heart, lung and kidney problems, both in humans and animals.
However, this was not the first study which had pointed out the presence of noxious chemicals in the air of BBN. An earlier report of the Central Pollution Control Board released in August 2010 had also pointed out the presence of volatile organic compounds, which are carcinogenic. Prior to that, a private study conducted by an NGO had also confirmed the presence of such chemicals.
The State Pollution Control Board had, however, failed to initiate any action to improve the ambient air quality of BBN till now.
The board did not even have the infrastructure to monitor air quality as per the 12 parameters of revised national ambient air quality standards in November 2009. Despite collecting fee worth crores from investors, no environmental infrastructure has been set up in the BBN area. This fee is collected as per the provisions of the Air Act, 1981, and is supposed to be used for mitigating pollution.
Sanjay Sood, member secretary of the board, said IIT Kanpur would submit its detailed report by the next month and they would prepare an action plan to upgrade their labs and also enhance staff strength.
He added that they were monitoring air pollution on various parameters, including respiratory suspended particulate matter, and labs would be upgraded soon to enable monitoring of all revised parameters.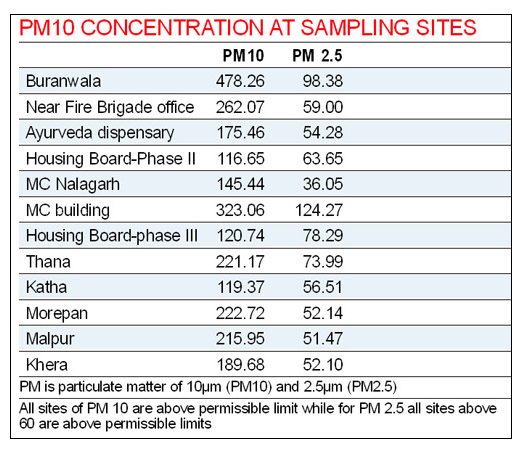 Study detects presence of harmful chemicals in BBN area