CHENNAI, December 28, 2015
Sruthisagar Yamunan
The Hindu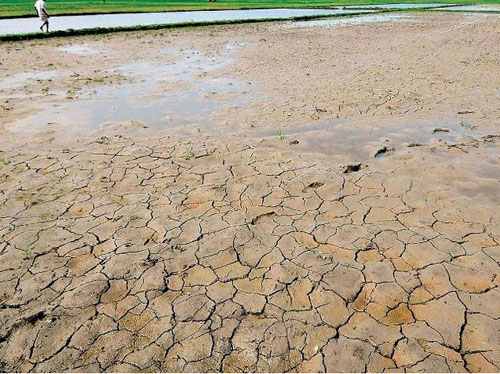 The paddy field at Killai village of Cuddalore district ruined by the recent floods.
Photo: B. Jothi Ramalingam
The good news is that southern districts will surpass last year's output.
The unprecedented floods that have ravaged farmlands in several districts may bring down the total food production of the State marginally, ending a trend of record output over the last two years.
In August, Agriculture Minister R. Vaithilingam told the Tamil Nadu Assembly that the government was confident of an output of 147 lakh tonnes of foodgrains in 2015-2016. But officials in the Agriculture Department apprehend that this target could not be achieved as the damage has been extensive.
A senior official said on condition of anonymity that crops on around 2.7 lakh hectares across State were damaged in the two spells of heavy rain, with the three northern districts of Cuddalore, Tiruvallur and Kancheepuram facing the worst flooding. In horticulture, production on around 1.4 lakh hectares has been affected.
The net area sown in Tamil Nadu on an average is about 47 lakh hectares.
What has been the saving grace is the "rosy picture" emerging from the southern districts, including Madurai and Virudhunagar.
"The inputs we are getting from these districts are that they will comfortably surpass last year's output. This will in a small way help compensate the loss from Cuddalore, Kancheepuram and a few parts of the Cauvery delta, where agricultural fields were flooded," the official said.
In its attempts to control the damage, Agriculture department officials in the three northern districts are providing specific advice to farmers to resurrect partially damaged crops.
Many farmers have gone ahead with the second round of planting.
In 2014-15, the State produced 128 lakh tonnes of foodgrains, the highest in its history. This was a substantial jump from the estimated 110.65 lakh tonnes of production in 2013-14.
Floods take a toll on farm output in northern districts