JULY 29, 2017
P.V. Srividya
The Hindu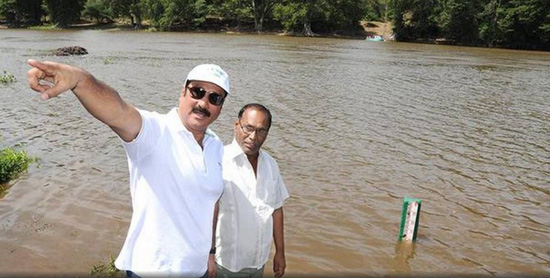 In campaign mode: PMK leader Anbumani Ramadoss at the launch of the 'Save Cauvery Mission' on Friday.
Says several laws violated in the recent notification of 45 villages for the project
TAMIL NADU: The Pattali Makkal Katchi (PMK) would take the legal route to oppose the notification of wetlands in 45 villages in Cuddalore and Nagapattinam districts for the Petroleum, Chemicals and Petrochemicals Investment Region (PCPIR), said PMK youth wing leader Anbumani Ramadoss, at the launch of his party's 'Save Cauvery Mission' in Biligundulu on Friday.
The campaign is intended to raise awareness on the importance of the Cauvery river as the lifeline of the State, as well as affiliated issues of farm livelihoods and ecology of the Cauvery delta.
When asked about the PCPIR notification, Mr. Ramadoss said, "We plan to move the court as four different laws appear to have been violated in the recent notification of 45 villages for the proposed Petroleum, Chemicals and Petrochemicals Investment Region in Cuddalore and Nagapattinam. The Land Acquisition Act forbids acquisition of wetlands for such projects. There are similar violations under the Coastal Regulation Act, the River Authority Act and the Town Planning Act."
"I would visit each of the 45 villages that have been notified and oppose the project tooth and nail," the PMK MP told The Hindu.
The three-day campaign took off at Biligundulu in Thally in Krishnagiri — the area that marks the entry point of the river Cauvery into Tamil Nadu. Later, a motorcycle rally was flagged off from Hogenakkal, some 10 km off Biligundulu. The campaign will conclude on Sunday evening at Poompuhar in Nagapattinam.
The campaign, according to Mr. Ramadoss, will push forward the demand for the long-delayed constitution of the Cauvery Water Management Board; declare the Cauvery delta as a Protected Agricultural Zone; oppose the Petrochemical project in the wetlands of Cuddalore and Nagapattinam and the proposed exploration projects in Kadiramangalam and Neduvasal; demand the exit of ONGC from the Cauvery delta; oppose Karnataka's plans to build a dam in Mekadatu, dumping of industrial sewage into Cauvery by Bengaluru and dumping of effluents from dyeing and industrial units in Noyyal and Bhavani, as well as the building of check dams by Kerala in Attapadi.
When asked about the desired outcome or impact that he anticipated from such a campaign, he said, "This wide range of issues requires people's awareness and mobilisation, and we intend to do that through issuing booklets and leaflets along the way."
PMK to oppose petrochemical hub