Reports Chennai: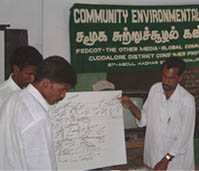 April 2016 – A Campaign of The Other Media
Evaluation of the Waterbirds of Odiyur Lagoon – A Wetland Near the Proposed Cheyyur Thermal Power PlantBombay Natural History Society, Ranjit anakadan, and the Madras Naturalists Society
March 2014
Tamil Nadu's Electricity Sector – Powerpoint by Kalpana Dulipsingh, Tamil Nadu Electricity Governance Initiative at "Coal-free, Nuclear-free: Tamil Nadu's Electricity Future Beyond 2050." 15 December, 2013. Loyola College, Chennai.
Sept. 2013
Chennai Corporation and Ramky
November 2011
Robbing the Poor: Slum Housing and the Elite Environmentalism of Adyar PoongaJanuary, 2011
Presentation on Alternatives to Elevated Expressways in Chennai City. August 30, 2009. By K. P.
Subramanian, Traffic Engineer, Chennai, at seminar organised by Save Chennai Beaches
Campaign.
Presentation on the Elevated Expressway along Chennai's coasts, and the High Speed Circular Corridor along Adyar River. August 30, 2009. By A. Srivathsan, journalist, architect and urban designer, Chennai. At seminar organised by Save Chennai Beaches Campaign.
Note: The first two maps in the presentation are from the online edition of The Hindu newspaper, Chennai.
Violation of Environmental, Labour & Human Rights due to Garbage Dumping and Burning at Kodungaiyur, Chennai;A Fact Finding Report March 2007 (Adobe pdf format)
Choking in Garbage II; Analysis of Ambient Air quality inside the Open Municipal Waste Burning Site at Kodungaiyur, Chennai 2 December 2006 ( Adobe pdf file)
Presentation on Legal Implications of Elevated Expressway along Chennai's coast. August 30, 2009. By N.L. Rajah, Advocate, Madras High Court at Seminar organised by Save Chennai Beaches Campaign.
Detailed Feasibility Report of Elevated Highway from Marina to Besant Nagar, Chennai
Trash Culture: A Study of Garbage and Youth Cultureby Green Festivals Initiative 2005 (Adobe pdf 2.5Mb size file in zipped archive)