Cuddalore 3 July 2006: A public hearing held on 29 July in Cuddalore was attended by around 150 people, mainly residents of SIPCOT Industrial Estate, Cuddalore. SIPCOT and Cuddalore town residents presented their grievances with regard to pollution caused by SIPCOT industries. The hearing was held to highlight the unlivable conditions in SIPCOT and discourage Government plans to set up new polluting industries in the area in spite of people's protests. Besides the controversial Chemplast Sanmar PVC factory, the Government has also announced plans to set up a Textile Park a la Tirupur in Periapattu and an oil refinery in Thyagavelli village.
The Public Hearing was conducted by a panel consisting of Prof. R. Saraswati, Retd. HOD Sociology Dept. of Queen Marys College, Prof. S. Janakrajan from Madras Institute of Developmental Studies and Dr. Rakhal Gaithonde, Public Health Specialist from Community Health Cell, Chennai. Starting 7 a.m., the panel toured Pachaiyankuppam, Kudikadu, Eachangadu, Sonnanchavadi, Sangolikuppam and Semmankuppam villages and interacted with villagers. Some villagers also submitted written complaints. They also accompanied SIPCOT Area Community Environmental Monitors on a pollution patrol through the industrial estate. According to residents, pollution levels were far below normal because industries had scaled down production in preparation of a visit by the public hearing panel. CUSECS 6, the final pumping station from where SIPCOTs effluents are sent to sea, was idle, and there was no effluent in the open sump at the station.
However, panelists did observe construction of an unauthorized building at Pioneer Miyagi. Monitors pointed out that the TNPCB will not do anything about the construction because the company has high-level political backing and support of higher-ups in the Environment bureaucracy.
A public hearing was held at Cuddalore Town Hall between 3 and 6 p.m. to hear the views of town residents and other interested parties, including villagers. Local businesses, local politicians from Pattali Makkal Katchi (PMK), and Cuddalore residents joined the residents in condemning the industries in the area. Some residents indicated that industries would be welcome if they were to operate without polluting. Others pooh-poohed that idea stating that industries make all kinds of promises before they set up, but fail to keep up their word. SIPCOT residents also repeated their complaint that the industries have pulled down the local economy and have failed to provide anything but coolie work for local residents.
The panelists concluded the session with their observations. Prof. S. Janakarajan said besides the usual complaints about bad water and damage to livelihood, he was particularly moved by "a heart-wrenching plea from one of the villages asking for 'air to breathe.' That really shocked me." Dr. Gaithonde said he observed a "sense of despair and hopelessness among the residents." According to him, this feeling of futility is caused by the open collusion between officials and polluters and has muted the public opposition to pollution. Prof. Saraswathy urged local residents to remain hopeful and organize alongwith Cuddalore town residents and supporters from Chennai and other parts of Tamilnadu. "Organise, unite, and victory will be ours. Villagers in Plachimada, Kerala, succeeded in driving out a multinational giant like Coca Cola. We can certainly exercise our will against these polluting industries," she said.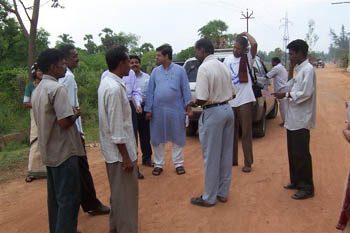 Public hearing panel on pollution patrol with SACEM near Tagros Chemicals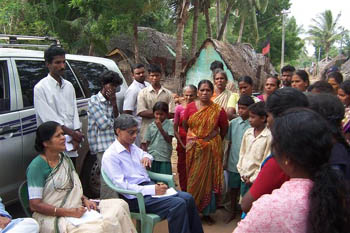 Photo 5: Residents of Pachaiyankuppam complain to panelists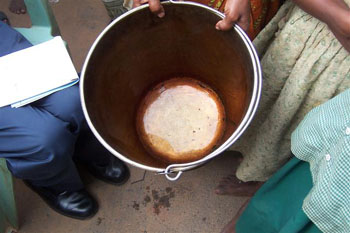 Vessels damaged by water stored in them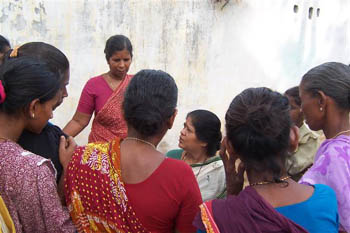 Pachiyankuppam women complain of health problems to Prof. Saraswati

Notorious polluter Victory Chemicals photographed during panel visit.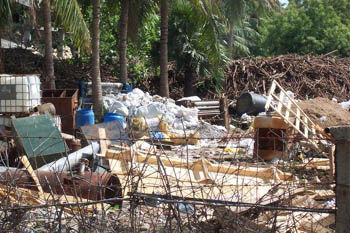 Hazardous waste, and firewood stored by Loyal Super Fabrics at a plot adjacent its unit.
Locals say this is a major fire hazard.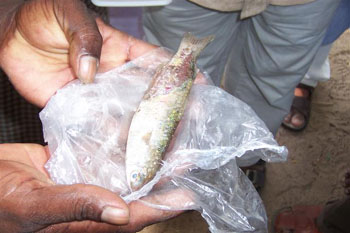 Sonanchavadi fishermen exhibit a fish with visible skin damage caused by illegal effluents in Uppanar.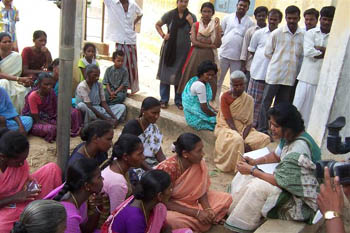 Semmankuppam women talk to Prof. Saraswati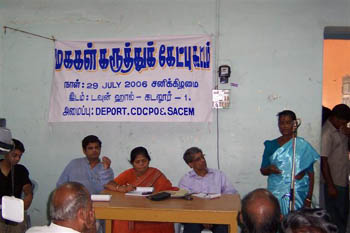 Public hearing in Cuddalore Town Hall.
No More Polluting Industries: SIPCOT residents tell Public Hearing Panel