SIPCOT Villagers Say No to Polluting Industries;
Tell TNPCB to Clean Up Existing Pollution
New PVC Plant and Oil Refinery Could Imperil Already Polluted Area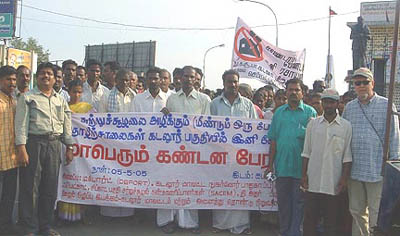 CUDDALORE, 5 May, 2005 Three Hundred SIPCOT villagers and fisherfolk from Cuddalore district today marched to the Collectorate to demand a stop to the setting up of toxic industries in their region. Overruling findings by NEERI, the State Human Rights Commission and the Indian Peoples Tribunal that the SIPCOT region is over-polluted and that its residents are currently suffering, the State Government has continued to direct the dirtiest and most dangerous industries to Cuddalore.
Despite local opposition, the Tamilnadu Pollution Control Board has allowed M/S Pandian Chemicals a manufacturer of explosive rocket fuel to set up near Semmankuppam village. An explosion in the company could wipe out nearby Arkema Peroxides and the residential areas in the vicinity. The factory was set up without consulting the public, and till date no information regarding the factory and its hazards have been furnished to the public. Already, two injuries, including one near fatal accident, happened in Pandian. Both injuries have not been reported to the authorities.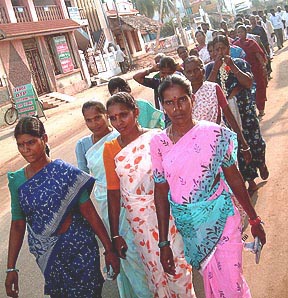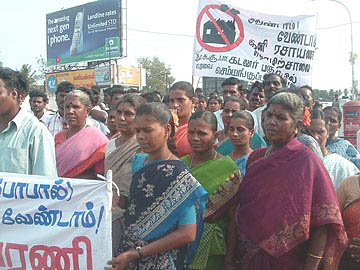 Sources indicate that the TNPCB is also surreptitiously attempting to clear a proposal to allow Chemplast Sanmar to set up a factory to manufacture PVC plastic using VCM a carcinogenic chemical. This proposal was rejected by Cuddalore residents in June 2002 at a Public Hearing conducted by the District Collector. The International Finance Corporation closed Chemplasts loan application relenting to public pressure. Subsequently, Chemplasts PVC factory proposal was relocated to Krishnapatnam, Andhra Pradesh. But local residents, including all political parties, opposed the project.
Residents from Mettur Dam, the site of Chemplast's existing PVC factory, sent a letter to the rally in solidarity. "If you know what's good for you, prevent Chemplasts PVC factory from coming in your neighborhood. We allowed them to set up, and all our wells, our air and lands are poisoned, and were constantly harassed by the company's goons," a representative of West Konur Farmers Association said.
Newspaper reports indicate that the controversial Nagarjuna Refineries project may be revived, and a textile park for textile dyeing units from Tiruppur is on the anvil. The implications for the regions fisheries are serious. All proposed units will pump their effluents to sea.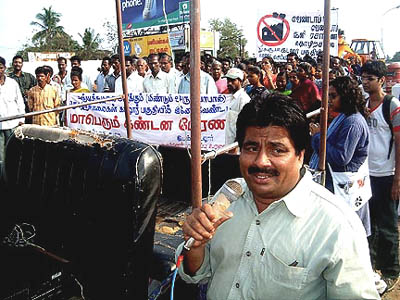 "Instead of helping the fisherfolk recover from the effects of Tsunami, the Tamilnadu State has unleased a second toxic Tsunami by inviting polluting industries. We welcome industries, but we don't want polluting or water-intensive factories that will interfere with the fishing and farming sectors," said the organisations leading the rally. Organisers included SACEM, FEDCOT, Cuddalore District Consumer Protection Organisation, Anti-Corruption Campaign, DEPORT and Global Community Monitor.
The Supreme Court in its order dated 14 October, 2003, cites its High Powered Committees report to recommend that "the concerned SPCB [State Pollution Control Board] should evolve a mechanism or checklist to ensure that an authorisation to any unit generating or handling hazardous waste is granted only where it is justified by the availability of adequate treatment and disposal facilities and of adequately trained manpower, " While even existing industries have stockpiled toxic wastes and are discharging untreated wastewater, the TNPCB is openly flouting the SC order by clearing new proposals without ensuring availability of adequate treatment or disposal facilities.
New PVC Plant and Oil Refinery Could Imperil Already Polluted Area