Uppanar river pollution by unknown sources in SIPCOT area
On 2nd of April 2021, The villagers of Semmankuppam in SIPCOT area reported that Uppanar (Paravanar) river was contaminated with black oily film discharge from unknown sources. 
The villagers documented the pollution in the river through photographs at the semmankuppam- Nochikadu river bridge. The surface of the river water near the river bank was observed to be floated by black oily-film layer with white foam giving chemical odour. The film was reported to be observed at both south and north directions of the bridge.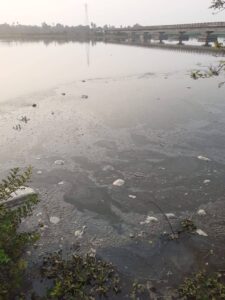 Uppanar(Paravanar) river contamination
The unknown source of this discharge is suspected to be from either of SIPCOT's industrial illegal direct effluent/waste discharge into the river or by any indirect dumping of liquid waste from vehicles of industrial/any other sources. The villagers raise doubts on the monitoring mechanism in place by the pollution control board and concerned authorities for the industrial effluent disposal activities of the SIPCOT industries especially those nearby the river. The villagers also raise concerns about the health and biodiversity of the river and demand no further pollution of the river.
Uppanar river pollution by unknown sources in SIPCOT area